Over the past decade, Ireland's tech sector boomed. From 2012 to 2022, employment almost doubled, while wages for such workers rose 47 percent compared to an average increase of 26 percent. However, contractors at Facebook were already being let go in September, and profits at the tech giants had been declining since early 2022. Unfortunately, the conditions that allowed the tech boom to happen are over and will not return.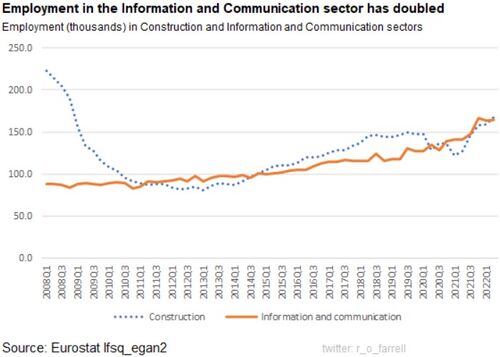 There are four long-term changes which mean the end of Ireland's tech boom.
Firstly, changing attitudes towards privacy have damaged the business model of Google (Alphabet) and Facebook (Meta), which relies on advertising. Adverts targeted at specific consumers are more effective than broadcasting an advert to the wider public.
However, such targeted advertising requires the personal data of consumers. Legal changes, such as GDPR, have placed a limit on what firms can do with personal data. In addition, due to popular demand, Apple has introduced privacy settings into their devices that limit tracking. This limits the ability of some tech giants to earn revenue used to invest in R&D and pay tech workers.
A second change has been the end of the era of ultra-interest rates, which pushed up stock market valuations. As outlined in an excellent article by Sarah O'Connor, companies such as Uber and Deliveroo are loss-making, and their services are effectively subsidised by investors (and by poor conditions for many workers). However, this is only possible when companies' valuations on the stock market are high. In addition, in many firms, stock options were used to bump up workers' pay. However, this is far less attractive for workers when stock market valuations are low.
A third change is that electricity grids are at capacity, limiting the expansion of some tech services. Much of the boom over the past decade has been linked to cloud computing and cloud-based services such as Netflix. However, these services are reliant on data centres. As with many industries that mature, cloud computing has reached a scale that it simply cannot continue to grow at the same pace without putting strain on the wider economy.
A fourth change relates to the changing pace of globalisation. It is unclear to what extent tensions between the US and China will impact on tech firms and have knock-on effects on workers in Ireland. Already, Apple is moving some of its production out of China, and this will likely reduce their profits. Over time, economic growth in Africa may lead to opportunities for tech firms based in Ireland.
A final temporary factor that is hurting the tech sector is due to the Coronavirus and the 'bullwhip effect'. Over lockdown, firms brought forward investment in IT, which they are now reducing. However, this effect is cyclical and will peter out over the medium term.
These changes do not mean Ireland will cease to have an IT sector. There will still be demand for computers and technology, just as the end of the construction boom did not mean an end to the demand for construction. Following the end of the construction boom, the sector recovered, even if it has not reached its previous peak. Over the medium to long term, there will still be strong demand for tech workers. However, the tech boom is over and will not return.

Rory O'Farrell is an economist lecturing in TU Dublin. He previously worked for the OECD and for NERI.