According to a USI report published in July, almost 3 in 5 students (59.72%) report being "concerned, very concerned or extremely concerned" about how they will financially manage over the next year. A month from the first stepping onto campuses since closures on 12th March, the vague and inconsistent messaging from both universities and the government on the coming term only adds to the immense financial pressures and uncertainty involved in students deciding whether or not to enroll.
Indeed, a recent UCD Students' Union press release in response to contradicting information about on-campus learning time outlines the financial toll:
Entering into rental agreements, applying for student loans and registering for programmes can cost students tens of thousands of euros on a yearly basis.
To rent or not to rent?
Ambiguity over the amount of time students will spend on campus also poses serious issues for the 6 in 10 students (61%) in Ireland who don't live with parents and must determine whether renting accommodation this year is worthwhile.
NUIG SU President, Pádraig Toomey, stated it plainly:
We're very worried that in the future we're going to have students turn around and say 'I'm only here for a day and you told me to get accommodation'.
Given the changing nature of official information, students will have to make the decision to find and secure accommodation last-minute. For example, since the first round of CAO offers is not until the 11th September, first years will have only a short timeframe to source accommodation before orientation dates start — only 3 days for those attending UCD, and less than 10 days for DCU, MU, NUIG, and TCD. This leaves first year students particularly vulnerable to exploitation through paying exorbitant rates for sub-par accommodation.
Furthermore, as almost a quarter (23.77%) of current students were unable to be released early from their accommodation contract last year, students are naturally concerned that they may be left with rental fees even in the event of future campus closures due to a second wave.
Can they even afford it?
Even if a student does decide to move forward with renting, the current recession makes paying for accommodation vastly more difficult. The 2018 Eurostudent report finds the average monthly student income in Ireland is €754. With 2020/21 rent costs expected to average at €499 monthly, accommodation alone can consume almost two thirds (66.2%) of students' average pre-COVID incomes.
There is also the added complexity of job loss in the coming year. USI reports just under 3 in 4 students (72.81%) during the 2019-2020 academic year had some job alongside their studies to help pay for not only the €3000 contribution charge for tuition, but also for accommodation, food, transport, and everyday living — a price tag that will total approximately €12,000 for this coming year. In reality, though, many jobs that students would have taken on simply no longer exist. A recent ESRI report found that 'youth friendly' employment sectors such as retail, accommodation and food service have seen the most employees let go and are expected to recover the most slowly from the current crisis. That study also predicts that youth unemployment will remain 'high' until 2021.
Are current financial supports enough?
Almost one-third (29.18%) of students in Ireland reportedly lost employment due to COVID, with the Pandemic Unemployment Benefit (PUP) data indicating 60% of 18-19yrs and 47% of 20-24yrs (of those employed by the end of 2019) are in receipt. It should be noted that the PUP is only available to those who were in employment on or after 13th March 2020. Therefore, students who only work seasonally (i.e., Christmas and Summer) have not been able to avail of the PUP and are also not entitled to Jobseekers Allowance. In combination with ineligibility for full-time students for rent supplement, many students are currently left with little to no financial support.
Although the government has indicated that student financial supports are on the way, the €168m government package introduced for third-level institutions provides only limited direct financial support to students.
Regarding this, the USI President, Lorna Fitzpatrick calls for clarity on funding allocations:
Are the institutions free to spend it as necessary or will it be ring-fenced for measures such as supporting remote learning and making campuses safer from COVID-19?
Although the package has ring-fenced €20 million for students with disabilities, mental health supports, and tackling the digital divide, questions remain over how investments will assure equitable and adequate outcomes for students.
Further, the Student Assistance Fund (SAF) has been doubled from €8m to €16m with its dual focus of providing support to students from disadvantaged socio-economic backgrounds and in times of emergency hardship. The SAF is a vital crutch for students to get through the current crisis. However, there is no recent data available on how effective this fund is in supporting students through financial difficulties. Additionally, the USI COVID report finds that over one-third (36.69%) of student respondents were unaware that they could avail of SAF, indicating that more work should be done to ensure students have both access to and knowledge of the services available.
Finally, the SUSI grant provides for up to the total €3000 Student Contribution Charge plus a maximum maintenance rate of approximately €336 a month. Almost half (45.2%) of USI students are reportedly in receipt of SUSI, yet, as noted above, the national average cost of rent is €499 a month. Therefore an increase to SUSI can help alleviate the cost of living by direct financial support to students.
How to better serve students
To ensure that financial costs are not a barrier for incoming students, the government and third-level institutions should work to ensure that students are aware of all the supports available and should extend eligibility for the SUSI grant and SAF.
More than one-third (36.32%) of students surveyed by USI (see Figure 1) identified funding support as a key task for the government over the next year. Comments from students included references to SUSI grants and protecting access to the COVID-19 PUP payment.
Figure 1. Responses to "What can the government do for you over the next year?" (USI, 2020, p25).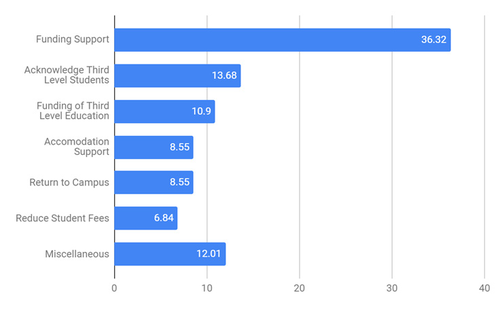 Other funding solutions include tackling underinvestment in higher education by the government and reducing the student contribution charge and student levies - the highest in the EU. Such actions would benefit students who are not eligible for PUP and other supports.
Indeed, both the Minister for Higher Education and the HEA have a responsibility to address the affordability issues of education only exacerbated by the COVID pandemic. Direct investments into both institutions and students can play a key role in addressing the long- and short-term issues in the sector.

This blog post was written by TASC interns:
Ciara McFadden: Ciara is currently an undergraduate student in the Bachelor of Science (Applied Social Sciences) Degree Programme at NUIG
Criomhthann Morrison: Criomhthann is completing a Master's of Public Policy at UCD and is interested in social policy, community empowerment, and climate justice.