Working Conditions in Ireland Publications
Here are the latest reports and submissions on working conditions in Ireland. Click on the links below to download the reports.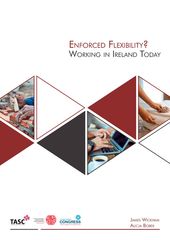 Cover image for EnforcedFlexibilityFINAL
Report published June 2016
Research Highlights on Working Conditions
Cover image for wcip-highlights-hospitality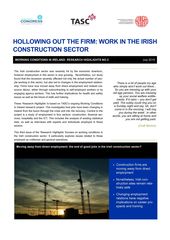 Cover image for construction sector highlights-final 200716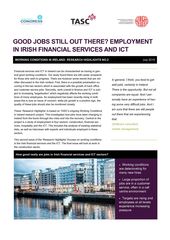 Cover image for research highlights high skill-final 200716
Submissions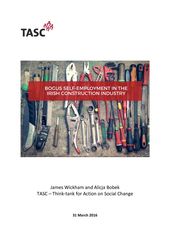 Cover image for Bogus self-employmentFINAL
Submission to the Department of Finance in response to: Consultation on the use of Intermediary-Type Structures and Self-employment Arrangements
This version revised 14/06/2016
Background Material
Here is the original research proposal that outlines the project plan:
After the crisis: recovery and good jobs in Ireland
The Project began with background reports on employment in the four case study sectors:
Employment in the Construction Sector
Employment in the Financial Sector
Employment in the Hospitality Sector
From Analysis
to Action
There are many ways to support our work.
View our Publications
View full listings of all our recent publications.