Equitable Water Charging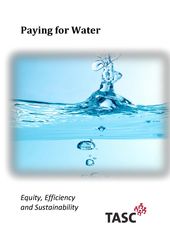 TASC have developed proposals for an equality-proofed form of water charging. The equitable model would involve Water Credits as a subsidy for low income and special needs households combined with increasing block tariffs, so that those who use the most water, pay most.
An updated (April 2014) four-page TASC Policy Brief on Water Credits can be accessed here.
TASC's initial detailed analysis can be seen here. Further detail on the economics of water charging and affordability is available in a powerpoint presentation here.
From Analysis
to Action
There are many ways to support our work.
View our Publications
View full listings of all our recent publications.