Ireland, Europe and the Multinationals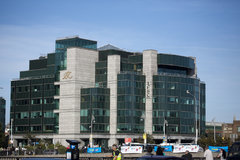 IFSC
The Apple tax case has thrown the spotlight on Ireland's industrial policy and some of its negative consequences. For more than fifty years, Irish industrial (or development) policy has centred on the attraction of FDI (Foreign Direct Investment). FDI has increasingly meant US MNEs (Multi-National Enterprises) most recently in the software/internet sectors. Such firms now provide a very significant proportion of total employment in Ireland. Not only are these jobs a crucial part of the national economy, but also, because they are often relatively skilled, usually well paid and provide a regular income, they have also contributed to reducing economic inequality in Ireland.
Within the overall strategic prioritisation of FDI, tax incentives appear to have played an ever increasing role. On the one hand Ireland's tax regime – and in particular the 12.5% corporation tax – has become a symbol of national sovereignty. On the other hand critics abroad claim that Ireland is engaged in a 'race to the bottom' or even worse, has become a tax haven for multi-nationals. The policy runs the risk of creating a zero/sum competitive relationship between Ireland and other member states. Less obviously, the reliance on this 'Tax-Based Industrial Policy' has deleterious effects within Ireland, the undermining of the rights of Irish workers due to a lack of trade union representation within the sphere of US MNEs, thanks in part to political lobbying is one such downside.
For some time growing popular anger at MNE tax evasion has pushed national states towards international co-operation. Within the OECD the BEPS (Base Erosion and Profit Shifting) Package aims to curb some of the most egregious practices. The attempts by the EU to develop a Common Consolidated Corporate Tax Base (CCCTB) also aim at increased transparency and reduced tax competition between member states. Such international measures put the spotlight on Ireland's role as US MNE's tax haven of choice: as international commentators have pointed out, the Irish 'national business model ' appears unsustainable.
TASC together with the Foundation for European Progressive Studies (FEPS) aim to investigate and analyse key themes related to the area of FDI. This project, with the input of acknowledged experts will consider the following themes – the quantity and quality of jobs within the foreign-owned sector, a history of tax based Irish industrial policy and the mechanics of the Irish corporate tax regime as we understand it in 2017. International experts will add contributions and insight from the perspective of European experiences of FDI.
The project aims to stimulate informed public discussion underpinned by evidence-based research. Throughout the lifespan of the study TASC will be hosting public events (please see events) whereby discussion and debate will occur in parallel to the reserach process. The project will be led by Professor James Wickham.
From Analysis
to Action
There are many ways to support our work.
View our Publications
View full listings of all our recent publications.