Tackling Economic Inequality
Tackling economic inequality is at the heart of TASC's work. Recent decades have seen a widening gap between the wealthy and the rest of society in most countries. We believe that is wrong in itself, extremely damaging for society and, as we have seen recently, leads to political and economic instability.
Through its research, TASC aims to establish and draw attention to the extent of extreme inequality in Ireland and, by so doing, to raise the issue up the public agenda in good times and bad.
Our work involves a critical, informed analysis of the causes, effects and sometimes complex dynamics of economic inequality in Ireland, Europe and in the global economy.
As well as establishing the facts, TASC has in partnership with The Foundation for European Progressive Studies produced proposals across a range of policy dimensions to address aspects of economic inequality, with the end-goal of a shared prosperity across society, the elimination of poverty and material deprivation, and efficient and effective public services.
Our Annual Economic Inequality Reports
A long-term project by TASC is to monitor trends in economic inequality in Ireland.
Starting in 2015, we have produced annual reports presenting key economic inequality indicators in Ireland, which year-on-year will provide critical information for the public, for policy makers and activists alike.
Cherishing All Equally 2019: Inequality in Europe and Ireland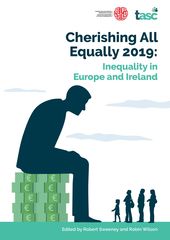 Cherishing all Equally 2019 is the fourth in our series of annual reports on economic inequality. It examines inequality in Ireland and in Europe with two European chapters dealing with income and wealth inequality, and two Irish chapters examining income inequality in depth. A key theme running through the report is that inequality, in both Ireland and Europe, is driven by the gains of the rich at the expense of the poor – the share that the middle gets is comparatively stable. Wealth also tends to be more unequally distributed than income.
The state we are in: Inequality in Ireland today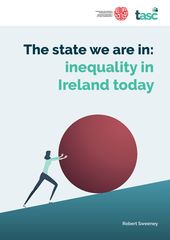 The state we are in: inequality in Ireland today examines how Ireland's inequality is different from other countries. As above, inequality is driven by the gains at the top at the expense of losses at the lower end – the share of income that the middle group is remarkably stable across countries. Where Ireland differs though is not that the poorest are unusually poor, but that groups above the bottom ten percent get a smaller share compared to our more equal European neighbours.
A home or a wealth generator: Inequality, financialisation and the Irish housing crisis
'A home or a wealth generator: Inequality, financialisation and the Irish housing crisis' by Dr Rory Hearne is extracted from Cherishing All Equally 2017.
Cherishing All Equally 2017: Economic Inequality in Ireland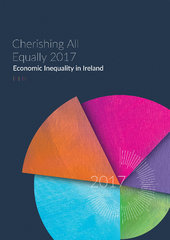 Cherishing All Equally 2017 is the third edition of TASC's annual report on economic inequality in Ireland and moves from the general to the particular.
The Report looks at the overall nature of economic inequality in contemporary market democracies: it justifies the focus on inequality within rather than between societies. It also concentrates on Ireland within a comparative European framework. Within these international and national frameworks, the report then looks at one of the most dramatically visible aspects of inequality in Ireland today – the housing crisis.
Cherishing All Equally 2016: Economic Inequality in Ireland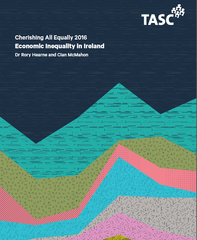 This report is the first annual update of the groundbreaking 2015 report. It includes two in-depth themed sections regarding the impact of economic inequality on gender and children.
Cherishing All Equally, Economic Inequality in Ireland 2015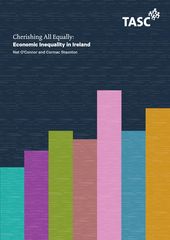 Published in February 2015, this report is the first detailed analysis of economic inequality in Ireland. It looks beyond income and wealth at a range of other issues including public services, taxation, family composition, people's capacities and the cost of goods and services. 
Further Information
TASC has on-going and recent research in many areas which can be accessed here. 
From Analysis
to Action
There are many ways to support our work.
View our Publications
View full listings of all our recent publications.