Democratic Accountability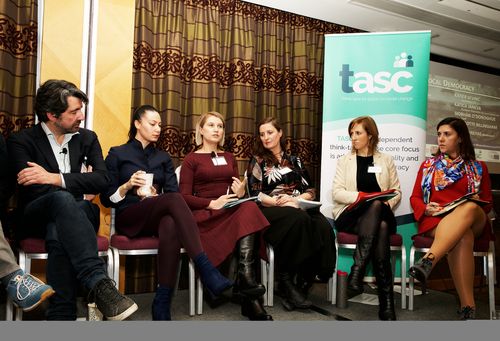 Panel at 'Thinking Outside The Ballot Box' Conference 2019
TASC's Democracy Research Stream encourages robust public participation in the democratic process and critical trust in democratic institutions at local, national, and EU levels. We achieve these aims by hosting public events, such as Thinking Outside the Ballot Box in 2019, an international conference on re-thinking democratic engagement, and also through various publications, articles, and engagements with media (see examples below).
This research stream maintains a strong dedication to increasing government transparency and to holding elected leaders to account. In fact, TASC produced the first-ever democracy audit for the Republic of Ireland, and our Open Government 'toolkit', a civil society resource for holding government to account, remains the most visited tool on our website.
TASC has also worked alongside other government departments and civil society organisations, such as with the Government Reform Unit in the Department of Public Expenditure and Reform, to implement reforms contained in Ireland's Open Government Partnership National Action Plan (as part of the international Open Government Partnership). See the Irish Open Government Partnership website, and the international OGP website for more details.
Our publications listing also contains our submissions and policy briefs on issues relating to lobbying reform and open government.
It is now clear that authoritarianism and illiberal politics will be defining features of the third decade of the 21stcentury. Given this worrying trajectory, TASC's commitment to its Democracy Research Stream will only strengthen, and its research and outputs will continue adapt to a changing political environment.
Deliberative Democracy Handbook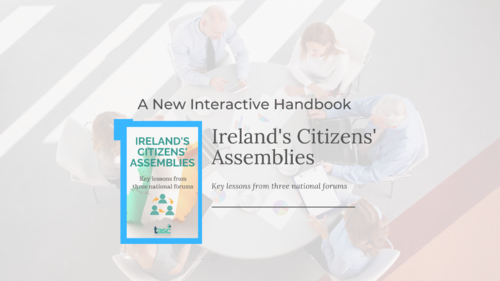 The 'Learing from Ireland's Citizens Assemblies' (October 2019) is the most recent publication under the Democratic Accountability Research Stream. It was born from the idea that Ireland's rich deliberative democratic experiences could, when combined in a straightforward way, be invaluable guides for future democratic experiments throughout Europe and the World.
From Analysis
to Action
There are many ways to support our work.
View our Publications
View full listings of all our recent publications.