Health Inequalities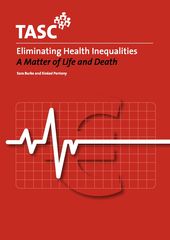 Chaired by Professor Joe Barry (TCD), and convened by TASC Board member, Dr Ruth Barrington, TASC's working group on health inequalities reconvened in 2014 with an agenda to investigate what progress has been made in tackling health inequalities, following up on TASC's 2011 report: Eliminating Health Inequalities - A Matter of Life and Death. The working group plans to update the analysis in the report, to consider a new publication on health inequalities and to input a health perspective to the work that TASC is undertaking on economic inequality.
Support us
Donate to TASC
There are many ways to support our work.
View our Publications
View full listings of all our recent publications.