The Nuts and Bolts of Innovation: New Perspectives on Irish Industrial Policy
06 January 2014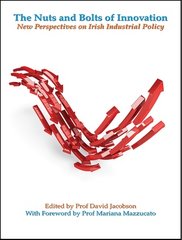 The book is entitled The Nuts and Bolts of Innovation: New Perspectives on Irish Industrial Policy. A key message is that there is an absence of strategic coherence in industrial policy in Ireland. The book shows that there is an industrial policy in Ireland, but that many aspects of it may not be recognised as such. Many policies impact on enterprises in Ireland. The enterprises are of all kinds, large and small, public and private, in industry and services; the policies too are varied, from innovation to taxes, from banking to the environment. With suggestions as to where to begin, the authors call for the government to pinpoint the role and effect of all relevant policies and agencies. They show that the lack of strategic coherence results in wasted time, effort and money. This strategic coherence is all the more important in the aftermath of the financial collapse. Yet the solution is not to allocate more state funding to industrial policy. What is required is for policy makers and economists to think differently about the problem, to better understand the interactions among policies and to accept the systemic relationships between public and private sectors, and between innovation and development.
The book is edited by David Jacobson (Emeritus Professor of Economics at Dublin City University) with a foreword by Mariana Mazzucato (Reginald M Phillips Professor in the Economics of Innovation, University of Sussex and Author of The Entrepreneurial State: Debunking Private vs. Public Sector Myths). In the book, Professor Seán Ó Riain provides an overview of the challenges facing Ireland in relation to industrial policy. Professor David Jacobson examines the difference between innovation and the narrower concept of R&D. Dr Eoin O'Malley's paper questions the received wisdom about Ireland's competitiveness and examines export market share. Professor Jim Stewart overturns the myth that Ireland's 12.5% Corporate Tax provides a 'cornerstone' of industrial policy. Chair of TASC's Economists' Network, Paul Sweeney, estimates the amount of public money used, directly or indirectly, to support the enterprise sector in Ireland at between €4.7 and €6.2 billion annually. Dr Rachel Hilliard and Prof. Jacobson demonstrate that strict environmental regulation can be business-friendly and lead to innovation.
The book is now out of print.
ISBN-13: 978‐1‐908689-25-2
From Analysis
to Action
There are many ways to support our work.
View our Publications
View full listings of all our recent publications.