TASC Budget 2015 Briefing (Oct 2014)
08 October 2014
TASC briefing on the Budget 2015 context of economic inequality and TASC's rebuttal to business lobbyists in relation to tax cuts.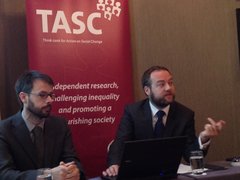 TASC Research Director Nat O'Connor (L) and Policy Analyst Cormac Staunton (R)
From Analysis
to Action
There are many ways to support our work.
View our Publications
View full listings of all our recent publications.