Migrant Community Needs Assessment - Interviews with patients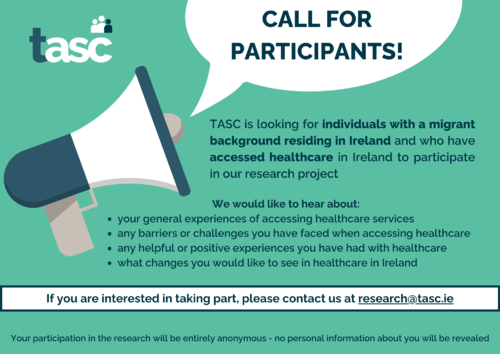 TASC, Ireland's Think Tank for Action on Social Change, is recruiting research participants to contribute to a project on the healthcare needs and experiences of migrants.
We are inviting people with a migrant background living in Ireland who have experience of accessing healthcare in Ireland to participate in a one-to-one interview. Examples of accessing healthcare include: GPs, hospital appointments, cancer screening/diagnosis/treatment, other diagnostic tests.
We are particularly interested in the experiences of refugees, asylum seekers and undocumented migrants, though all people with a migrant background are welcome to take part.
To participate, please contact us at research@tasc.ie.
You can find more information about the study, including its purpose and how your data will be handled, in a range of languages at the following links: