FEPS event on EU tax and investment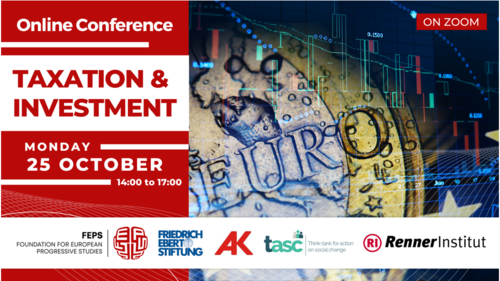 Taxation & Investment Conference
Online conference, Monday, 25 October 2021, 14:00-17:00 CET via Zoom
Ahead of the G20 Summit, which may reshape the way in which corporate tax works, and ahead of the new European Semester cycle, that embeds the Recovery and Resilience Facility, we make a point on these crucial crossroads that have the potential to redesign the European approach to public finances for the next decade.
The event on Taxation and Investment on October 25 is organised by FEPS, together with the Friedrich-Ebert-Stiftung (FES), the Karl Renner Institut and TASC; in collaboration with the Austrian Chamber of Labour and the ICRICT.
Top policy-makers and scholars will reflect on three main questions:
1. Taxation: Reforming corporate taxation globally, which impact on the EU?
2. Investment: Fiscally sustainable public investment for climate, how to?
3. Fiscal Rules: Fiscal rules and governance, how to make it compatible with new debt levels?
Building on recent research, the promoting organisations will provide inputs to stimulate the debate around these topics.
Find out more about the work FEPS and partners are conducting on taxation, fiscal rules and climate investment!