TASC Launches Report on Health Inequalities in the EU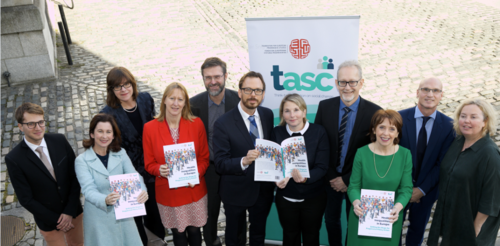 On 2 November 2018 TASC, FEPS and Trinity College Dublin launched the revealing study, 'Health Inequalities in Europe: Setting the Stage for Progressive Policy Action'. See the release below for more informaiton.
Two Tier Health System Compounds Health Inequalities in Ireland – New European Report
People in the "twilight zone" with incomes above the medical card threshold but without private health insurance could be losing out most, according to report's co-author.
Health Inequalities in Europe: Setting the Stage for Progressive Policy Actionfinds that Ireland's 'two-tiered' health system sets us apart from our peer Western EU countries when it comes to health policy and may contribute to disparities in health amongst different socio-economic groups here.
The Report is published by TASC, the Think-tank for Action on Social Change, and FEPS, the Foundation for European Progressive Studies.  It will form the evidential backbone of an international conference on Health Inequalities in Ireland: The Role of Policy, taking place at Trinity College Dublin, today, Friday, November 2nd. 
At 81.5 years, Ireland's life expectancy is one of the highest in the EU.  The Report also shows that people in Ireland have the best self-reported health in the EU. However, relative to other Western European countries, there is a high level of disparity between high and low-income groups of 21.5%. This reflects, in part, the fact that Ireland's high-income group has the highest self-reported health across the 28 states.
The study confirms that Ireland remains unique in the EU as the only Western European country not to have universal health coverage of primary care.  This is despite government commitments made since 2011 and reiterated as a core vision of Sláintecare in 2016.  Ireland is also unusual in a Western European context in the proportion of health funding that derives from out-of-pocket payments or voluntary health insurance.  Out-of-pocket payments often stop people seeking preventative and necessary healthcare which can often result in more serious conditions and more expense at a later point.
Unlike our peer Western EU countries in particular, the 45.4% of Irish people with private health insurance in Ireland (2015) continue to enjoy favourable conditions, like faster access to diagnostics and hospital treatments, even from public providers.  In France, by comparison, almost everybody has private health insurance, so it does not have the same discriminatory impact when it comes to accessing vital services. 
"The old saying health is wealth seems to ring particularly true for Ireland," said Shana Cohen, the new Director of TASC. "What this report makes very clear is that people with private health insurance in Ireland have a much better chance of getting the health services they need, and getting them quickly.  So, where you are in the job market would seem to have a significant impact on your wellbeing and health outcomes."
"We need to introduce universal health insurance as a matter of urgency, as a targeted and appropriate response to the health challenges being experienced by people in the "twilight zone" particularly  – those who are above the threshold for the medical card but who do not have private health insurance," she continued. 
Co- author of the report, Timon Forster also points to what could be a relatively high level of unmet medical care needs for people living in this "twilight zone". 
While just 1.1% of people in the top income quintile (top 20%) have unmet medical care needs, 4.2% of people in the bottom quintile (bottom 20%) report unmet medical care needs.  However, individuals with very low incomes, he pointed out, would be more likely to have a medical card and more likely to be able to access primary care at little or no cost.  Most peer EU countries have small or negligible differences in unmet medical care needs between income groups, again highlighting Ireland's wider disparity.
"Because the medical card is means tested, this research suggests that things might be even worse in Ireland for people just above this threshold.  They could be the people really losing out," he said.
He stressed that it was not enough for governments to just look at the health system in isolation. The report recommends that EU governments, including the Irish government, must also address labour market and fiscal policies if health inequalities are to be reduced. 
Ireland, the report shows, has a high level of long-term unemployment in comparison to peer Western European countries; nearly 60% of those without work have been unemployed for more than one year (2016), which has a negative impact on health.
"Unemployment is associated with a range of adverse health consequences, including worse self-reported health, as well as increased physical and mental health problems," Forster said.  "Further, the negative health experiences of unemployment are not limited to the unemployed but also extend to their families and the wider community."
The European wide report examines health inequalities across the EU – the extent of those inequalities, their cost to society, their determinants and what can be done by policymakers to reduce them. Within all European countries, the higher the social position of people is, approximated by level of education, occupation or income, the better their health.  Between European countries, life expectancy and mortality continue to be better in Western European countries than in Eastern European countries.
For more information contact:
Edel Hackett, Tel: 087-2935207
About TASC and FEPS
TASC (Think tank for Action on Social Change) is an independent progressive think-tank whose core focus is addressing inequality and sustaining democracy. More information can be found at: www.tasc.ie.
FEPS (Foundation for European Progressive Studies) is the European progressive political foundation. FEPS works in close collaboration with social democratic organisations, and in particular national foundations and think tanks across Europe, to tackle the challenges that Europe faces today. More information can be found at: www.feps-europe.eu.