FEPS-TASC conference addresses inequality and Ireland's productivity and corporate tax policy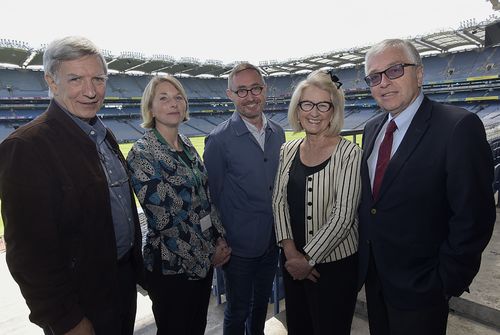 Brexit brings into sharp focus the need for Irish-based enterprise to step-up their productivity and innovation performance, according to the chair of the National Competitiveness Council.
            Speaking today (Friday, 22 June) at the FEPS-TASC annual conference, Prof. Peter Clinch said that Ireland's policy system needs to be agile in responding to the competitiveness challenges.
            "While the economy and labour market is in its strongest place since the onset of the recession, we must now plan to increase participation in the workforce, and to increase skill levels and productivity across the economy.
"To remain competitive, we need to focus on what will be required to grow the economy both today and in the future. This must involve a relentless focus on innovation, diversification, cutting costs and seeking new markets. While our competitiveness performance in recent years has been positive, we cannot be complacent," Prof. Clinch stated.
            "Productivity is a key driver of national competitiveness. Improving levels of labour and capital productivity enables enterprises to improve their efficiency and profitability, and enhances the ability of countries to maintain international competitive advantage and sustainably improve living standards," he concluded.
            The issue of Ireland's corporate tax policy is also a theme of the conference, being discussed by former director of the ESRI, Prof. Frances Ruane, and Prof. Jim Stewart from TCD, amongst others.
According to Prof. Stewart, "Tax incentives to attract foreign direct investment have been the main tool of industrial policy in Ireland for over 50 years. Ireland ranked third amongst OECD countries in terms of inward FDI flows in 2017, when FDI stocks amounted to €880 billion for 2017 – larger than France.
"Internet-based FDI in Ireland is internationally mobile and its characteristics pose severe difficulties for a tax-driven industrial policy. This is not likely to result therefore in an innovative, research-led economy, but is more likely to lead to an emphasis on tax reduction."
            He continued: "The challenge for researchers and policy makers is to develop and implement industrial policy measures not dependent on tax incentives and tax minimisation strategies. The implications for location of FDI is an important avenue for future research, and the development of alternative policies emphasising high value added indigenous firms."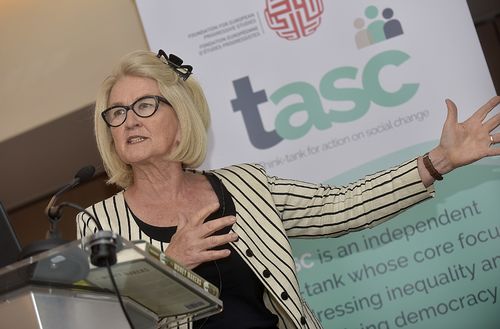 Ann Pettifor
            Other speakers at the conference included Ann Pettifor, advisor to Jeremy Corbyn, and Prof. Richard Wilkinson, co-author of the international bestseller The Spirit Level and the newly available, The Inner Level.
            According to TASC director, Dr Shana Cohen, "TASC has organised the conference in partnership with FEPS as part of its effort to challenge assumptions in economic policy and consider alternatives that will effectively address the causes of inequality. In this vein, we are publishing reports later this year with FEPS on inequalities across the EU in health and household income, how policy can address the consequences of precarious work in Ireland and the EU, and how industrial policy must diversify beyond the corporate tax rate. Finally, we are renewing our engagement with deliberative democracy and democratic accountability to respond to the current climate in Europe and internationally."
            FEPS (Foundation for European Progressive Studies) works in close collaboration with social democratic organisations, and in particular, national foundations and think tanks across Europe, to tackle the challenges that Europe faces today.
            TASC (Think tank for Action on Social Change) is an independent progressive think-tank whose core focus is addressing inequality and sustaining democracy.