Precarious work affects health, housing and family plans of workers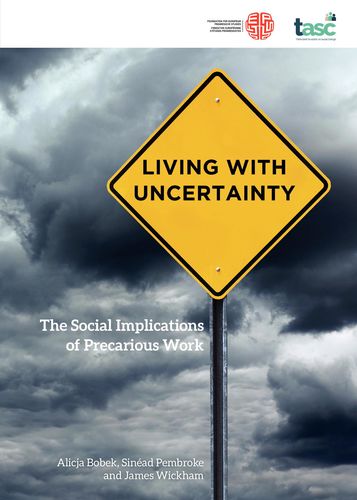 Insecure or precarious working conditions can have a negative effect on physical and mental health. That's one of the findings of a new report from the think tank, TASC, launched today.
            Stress, depression, anxiety and social isolation were commonly reported by participants in the FEPS-TASC study, Living with uncertainty: the social implications of precarious work.
            The majority of participants in the study revealed that they went to work when they were ill, which often prolonged their illnesses. Many precarious workers do not get paid sick leave and therefore cannot afford to take time off work.
            The report identifies three main types of precarious employment in Ireland: part-time work with variable hours ('if-and-when' contracts), temporary work and solo self-employment. It explores trends across various sectors of the economy including human health, transportation and storage, education, construction, accommodation, administration and support.
            Dr Sinéad Pembroke, co-author, said: "Precarious work creates insecure and unpredictable lives. It results in a lack of independence, forced infantalisation, adults unable to leave the family home or lead independent lives.
            "The negative effects on the physical and mental health of workers is noteworthy. The majority of people we interviewed could not afford to be ill. For precarious workers, the burden of expense is felt in two ways: no paid sick leave, and the expense of paying to see a GP and for medication, tests and follow-up appointments.
            "This can mean having to make hard decisions like whether to first buy food, or pay bills or rent. Medical cards and GP cards are means tested and most precarious workers do not fit the eligibility criteria to obtain them, although they are not able to afford primary care services," said Dr Pembroke.
            The report also finds that the lack of employment stability was highly problematic for those who wanted to start families of their own, especially if their partner was also in a similar work situation. This led to postponement in having children. Maternity leave was challenging for women in precarious employment, as the contract may be shorter than the actual leave. Formal childcare proved to be too expensive for participants who had insecure incomes and alternative arrangements were often necessary.
            When it comes to housing, according to the authors, precarious workers have no choice but to rent or to live in the family home. Those working in non-standard employment are unlikely to be approved for a mortgage, while renting in the private market has become prohibitively expensive.
            Dr Shana Cohen, TASC Director, said: "Precarious work has affected people of all ages and in a range of occupations. Whereas insecurity was once only associated with unskilled and low wage work, now increasing numbers of highly skilled people are locked into insecure employment. In this respect, the sheer extent of precarious work is of major concern."
            According to Senator Alice-Mary Higgins: "Increasingly, we are seeing that work no longer represents a reliable route out of poverty. Precarious work is usually poorly paid and under-unionised, lacking in important benefits such as pension contributions, sick leave or parental leave. Often, it can leave workers vulnerable to pressure, abuse or exploitation. In its effects on housing, health and family life, precarious work often spills over into precarious lives."
            The report, Living with uncertainty: the social implications of precarious work by Dr Alicja Bobek, Dr Sinéad Pembroke and Prof. James Wickham, is published by FEPS-TASC.
            FEPS (Foundation for European Progressive Studies) works in close collaboration with social democratic organisations, and in particular national foundations and think tanks across Europe, to tackle the challenges that Europe faces today.
            TASC (Think tank for Action on Social Change) is an independent progressive think-tank whose core focus is addressing inequality and sustaining democracy.