Robert Sweeney on Irish living standards (thejournal.ie)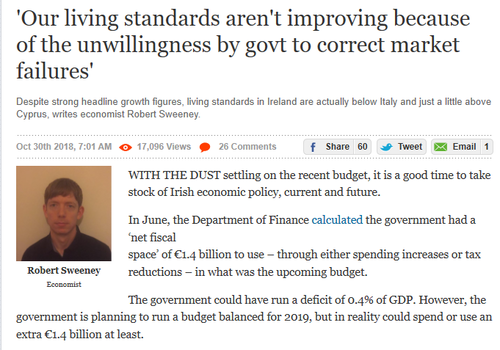 Robert Sweeney pens thejournal.ie opinion on why living standards are not rising:
"WITH THE DUST settling on the recent budget, it is a good time to take stock of Irish economic policy, current and future. In June, the Department of Finance calculated the government had a 'net fiscal space' of €1.4 billion to use – through either spending increases or tax reductions – in what was the upcoming budget. The government could have run a deficit of 0.4% of GDP. However, the government is planning to run a budget balanced for 2019, but in reality could spend or use an extra €1.4 billion at least."
Read more here: 'Our living standards aren't improving because of the unwillingness of government to correct market failures'