Brexit no longer a credible national project claims leading commentator at TASC annual lecture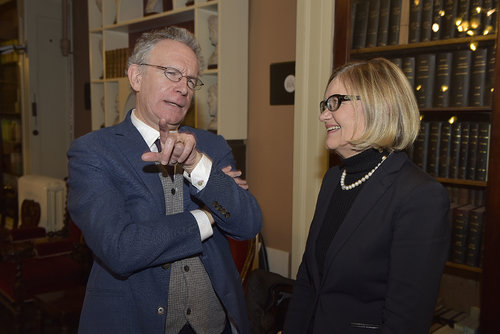 Brexit is "no longer a credible national project," according to the writer and journalist Fintan O'Toole. The more it recedes as a practical proposition, the more its focus will shift into blame and betrayal, he claimed.
            O'Toole made the remarks delivering the TASC annual lecture on Brexit and the crisis of nationalism, held in Dublin on Thursday, 14 November.
            England is going to have find its own version of a nationalism that expresses its best, not its worst, traditions, O'Toole said. "It was not inevitable that the desire to restate English sovereignty would be channeled into chauvinism, anti-immigrant sentiment, and a misplaced conviction that if you share sovereignty in a complex arrangement like the EU, you lose it," he stated.
            However, there is a great deal that Europe can do, O'Toole said. "It can urgently recreate a European narrative of equality, dignity and protection.
            "There is no Europe that is not social Europe – if the European project is not animated by the urgent imperative of social justice, it will die. And there is no democracy if it is not social democracy. Democracy cannot withstand for very long the inequality, insecurity and indignity that are produced by neoliberal globalisation."
            Responding, Prof. Brigid Laffan commented that: "The Brexit question is overwhelming the UK's political and administrative system. It has created unprecedented uncertainty for economic actors, individual citizens and the constituent parts of the UK. It is a constitutional moment the outcome of which is unknown and unknowable. Ironically, the EU question which was not at all a salient issue on the UK political agenda prior to the referendum will bedevil UK politics and the Union for decades to come."
            TASC Director, Dr Shana Cohen, said: "Brexit has created uncertainty for the UK, Ireland and Europe. This uncertainty does not just concern borders or trade, but also the political sustainability of the economic model Ireland and the UK have followed. Rethinking this model and developing alternative economic and social policy strategies for the future have become critical for Ireland and Europe.
            "TASC's work over the next two years will inform new directions in policymaking, with the aim of addressing more effectively the issues that have influenced the Brexit vote and political trends in Europe more widely – inequality and democratic accountability," Dr Cohen concluded.
            Irish Times columnist, Fintan O'Toole, was awarded the Orwell Prize for Journalism for his writing on Brexit. He is Leonard L. Milberg visiting lecturer in Irish Letters at Princeton University, and is the author of numerous books, most recently Judging Shaw .
            Brigid Laffan is Director and Professor at the Robert Schuman Centre for Advanced Studies, European University Institute (EUI), Florence. She was Vice-President of UCD and Principal of the College of Human Sciences from 2004 to 2011.
            TASC is an independent progressive think-tank whose core focus is economic inequality and democratic accountability.