TASC says housing crisis set to worsen substantially unless government takes radical approaches to increase house building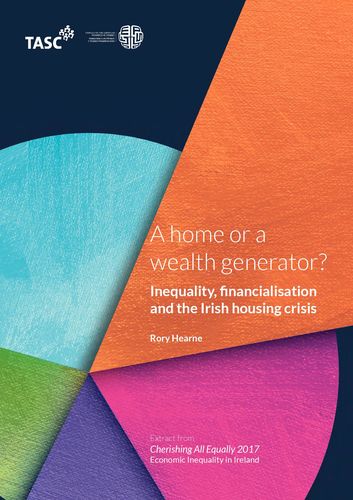 At current rate of building, it could take over 40 years to provide permanent homes to people on Dublin City's housing waiting list
The independent progressive think tank TASC has said that the housing crisis is set to worsen. At the current rate of building, it could take over 40 years to provide permanent homes to those people on Dublin City's housing waiting list. The Government needs to take radical approaches to increase house building, summed up in the idea of a "New Deal" programme of state-led provision of affordable rental housing through a new Irish Affordable Homes Company.
The prediction about the worsening of the housing crisis was made by Dr Rory Hearne in a paper, A home or a wealth generator? Inequality, financialisation and the Irish housing crisis, which  featured  at the TASC-FEPS Annual Conference, Solid Foundations? Economic Inequality and the Housing Crisis. The paper is also  included in TASC's annual report on economic inequality, Cherishing All Equally, which was  unveiled at the conference on Friday, 16 June.
Dr Hearne's paper dramatically illustrates the extent of the housing crisis in Ireland:
Between July 2014 and December 2016 the number of homeless families in Dublin increased by 289%;
211,600 households – equating to 10% of all households – face severe housing unaffordability and insecurity (77,493 in mortgages in arrears, 1,694 homes repossessed in 2016, the highest on record so far);
A potential tsunami of homelessness, from mortgage arrears and unaffordable rents in the private sector.
Dr Hearne says that rather than addressing the problems, Rebuilding Ireland – the Government's policy for tackling the housing crisis – is worsening the situation.
"Rebuilding Ireland is almost completely reliant on the private sector to deliver 134,000 social housing over the period 2016-2021. Almost two-thirds of 'new' social housing – 87,000 units – are to be provided from the private rental sector. Of the 47,000 new builds only 21,300 will actually be new build exclusively for social housing.
"The choice is between supporting housing as a financialised commodity and wealth generating investment asset for the wealthy, and ensuring housing as a universal right for all. The first option will enshrine unaffordable rental and house prices into the future and will guarantee associated poverty and financial stress for large sections of our population. The second approach can deliver and guarantee the human right to housing for all our citizens," Dr Hearne stated.
Rebuilding Ireland is already failing to reach its targets, said Dr Hearne. "While it was stated that 18,000 new social housing 'solutions' were provided in 2016, in fact there were just 650 actual new build social housing units. Only 210 of these were built by local authorities with just 40 in Dublin. This was far below the 2,200 projected new builds for 2016."
Dr Hearne said that only 1,829 of the 8,300 new social housing 'pipeline' announced in February 2017 are 'on site' already.
"There are likely to be less than 1,000 new builds in 2017, a third of the projected 3,000 figure outlined in Rebuilding Ireland. In Dublin City, there were only 604 social housing units started on-site in 2016, just five in South Dublin and none in Cork City. At this rate of building, with a social housing waiting list of almost 20,000 in the capital, it could take over 40 years to provide a permanent home to those on the Dublin City Council housing waiting list. That does not include people who become newly homeless or in need of social housing."
Dr Hearne said that the privatisation and marketisation of social housing provision through the private rental sector has meant greater housing distress for lower income households, a rising cost for the state, and has worsened the wider housing crisis by increasing demand and reducing supply in the private rental sector. He said that there has to be a shift away from housing as a financialised commodity towards the state directly providing housing as a human right.
"Policy needs to prioritise the provision of housing as a social necessity and a human right rather than as a speculative investment asset and financialised commodity. This means secure and affordable homes are prioritised within housing and economic policy ahead of the interests of the property industry, Real Estate Investment Trusts and wealth equity fund investors. The human right to housing as a home needs to be implemented."
According to Dr Hearne, the scale of response and change of direction required to address the crisis requires a new Irish Affordable Homes Company and a number of other policy measures that would prioritise the provision of housing as a human right and not a financialised investment asset. 
"Such policies would aim at improving security of tenure in the private rental sector for tenants, using the large amount of vacant and derelict land and buildings to provide homes to address the crisis, such as fast-tracking and increasing the vacant site tax, compulsory leasing orders (CLOs) on vacant property or a vacant property tax, a 15% non-resident speculation tax," Dr Hearne concluded.