New Think Piece: Paul Sweeney on Aer Lingus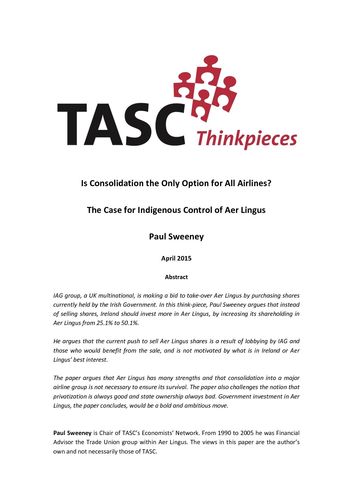 IAG group is making a bid to take-over Aer Lingus by purchasing shares currently held by the Irish Government. In this think-piece, Paul Sweeney argues that instead of selling shares, Ireland should invest more in Aer Lingus, by increasing its shareholding in Aer Lingus from 25.1% to 50.1%.
He argues that the current push to sell Aer Lingus shares is a result of lobbying by IAG and those who would benefit from the sale, and is not motivated by what is in Ireland's or Aer Lingus' best interest.
The paper argues that Aer Lingus has many strengths and that consolidation into a major airline group is not necessary to ensure its survival. The paper also challenges the notion that privatization is always good and state ownership always bad. Government investment in Aer Lingus, the paper concludes, would be a bold and ambitious move.