TASC is hiring a "Junior Researcher" to join our Climate Justice Stream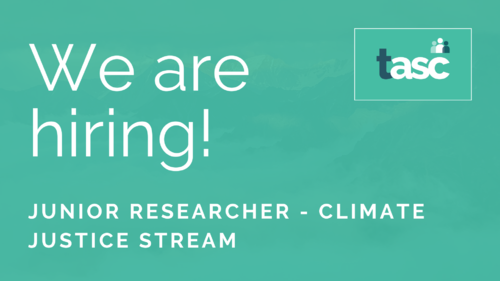 TASC is looking to hire a junior researcher to increase the capacity of TASC as we advance our work in Climate Justice, Health Inequalities, and Social Inclusion. The researcher will focus primarily on Climate Justice initiatives, but will be asked to support the other streams.
This unique role will give the successful candidate the opportunity to work on both local and multilateral Climate Justice and Social Inclusion initiatives across the island. If you care about people and their rights, understand the gravity of the catastrophe we face in terms of climate breakdown and wish to work on solutions that address inequality, empower people and accelerate climate action, this might be the right opportunity for you.
This is a full-time fixed-term contract of one year starting in June 2023. Subject to funding and candidate availability, the post may be extended beyond one year. The position reports directly to TASC Director Dr Shana Cohen while interfacing with other members of the Climate Justice and Social Inclusion streams, admin and communications staff. Working locations for this position are flexible but may require time in our Dublin office/ the Dublin area.
About TASC
TASC is an independent think-tank whose mission is to address inequality and sustain democracy by translating analysis into action. TASC's Constitution presents its main objectives as:
Promoting education for the public benefit
Encouraging a more participative and inclusive society
Promoting and publishing research for public benefit
As a public education charity, TASC engages in research and public outreach concerning inequality, democracy, and climate justice in the current political, economic, and social environment. Through its work, TASC seeks to increase public knowledge of economic and social policy, improve working conditions, facilitate a just transition to advance climate action and protect livelihoods and communities, and more generally, contribute to positive social change in Ireland and the EU.
TASC's Climate Justice stream seeks to devise solutions and advance responses to the climate crisis that address inequality, empower communities, and share the benefits and burdens of climate action equitably and fairly. To the forefront of this is the People's Transition project which focuses on participatory and community-led approaches to climate action. Over the next three years, TASC will engage with 30 communities across the island of Ireland to support the development of climate solutions based on the principles of community-led local development, community ownership and community wealth building. TASC is also participating in a European-wide project called Football for Climate Justice which applies the logic of the People's Transition within football clubs across several EU member states. Domestically, TASC is working on projects relating to the impact of the transition to net zero for communities and the connections between green spaces and good health.
Core Responsibilities include:
Work as part of a small team to deliver the objectives of TASC's Climate Justice, Social Inclusion, and Health Inequalities streams. This role will require semi-regular travel to locations across the island of Ireland.
Support the development of strategies, programmes and projects to promote people-centred climate action in Ireland, Europe and globally.
Undertake reviews of academic and policy literature to support the co-creation of community solutions.
Assist researchers in collecting qualitative data using methods such as interviews and focus groups and analyse desk-based, qualitative and quantitative data and summarise results.
Draft and input into documents to inform the Climate Justice stream's activities, including position papers, concept notes, agendas, proposals and presentations.
Keep abreast of the policy context in which the Climate Justice stream operates and the processes it seeks to inform and influence
Assist with the wider work of TASC in Social Inclusion and Health Inequalities, including research and helping to draft reports.
Undertake duties as required by the TASC Director.
Required Qualifications and Experience
A postgraduate degree, ideally in community development, sustainable development, climate change, development studies or human rights; other relevant qualifications may be considered.
Experience in using both qualitative and quantitative data collection and analysis.
Strong communication and interpersonal skills, including sensitivity and appreciation for diversity.
Experience in developing and implementing projects that require the engagement of stakeholders with different perspectives and aspirations.
Required Skills
Effective listener with the ability to distil out critical substantial, and contextual information from conversations.
High level of emotional intelligence with a genuine care for people, their sense of belonging, their stories and their aspirations.
Good interpersonal skills with the capacity to work in a multicultural setting.
Excellent written, computer and oral presentation skills.
Able to effectively prioritise and organise own workloads and operate under pressure.
Fluent English (Irish and other European languages are very desirable)
Key competencies
The successful candidate will conduct themselves with integrity and will treat people with empathy, politeness, and kindness.
The successful candidate will encourage colleagues and value collaboration and teamwork that shares in success and learns from shortcomings.
The successful candidate will not fear making mistakes, being wrong or coming up short.
The successful candidate will have the ability to understand and appreciate issues from a wide range of perspectives and adapt their own thinking and approach based on this understanding.
Expected hours of work
This is a full-time post (5 days/week)
Compensation
The salary for this role is between €36,000 and €38,0000, depending on experience.
Applications
Send your CV with a 1-page cover letter to contact@tasc.ie by 5pm on the 26th May 2023. Unfortunately, due to capacity constraints, we can only guarantee a response to shortlisted candidates.
Research has shown that candidates from underrepresented groups often don't apply for roles if they don't meet all the criteria – unlike majority candidates meeting fewer requirements. We strongly encourage you to apply if you're interested; we'd love to know how your experience can advance TASC's climate justice, health inequalities and social inclusion work.
All information received from candidates will be processed in accordance with the Data Protection Acts, 1988 and 2003 General Data Protection Regulation (GDPR; 2018)
TASC is the trading name of Tasc Europe Studies Company Ltd (T/A TASC). Registered Address: Hill House, 26 Sion Hill Road, Drumcondra, Dublin 9. Company No. 342993 - CHY 14778 - RCN 20049096 - TRN 6263993W.