Launch of TASC's Annual Inequality Report - The State We Are In
11th March 2020 - 11:00 AM to 01:00 PM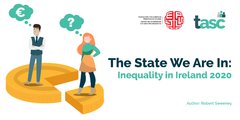 Ireland has undergone rapid transformation in recent years. Economically laggard and culturally conservative, it had long been known for its contrast, rather than similarity with its neighbours. It can now boast to have among the highest rates of economic growth in the EU, and recent refernda underpin how cultural change has taken place.
One area where things have apparently remained unchanged is its levels of income inequality. Though Ireland's level of inequality is now the norm across Europe, historically it was considered high. The State we are in examines inequality in Ireland today, with a particular focus on why market inequality is so high. It explores questions such as has inequality really not changed? How much of Ireland's inequality is due to unequal wages? How much is due to low employment?
Join us for the launch of TASC's Annual Report on Inequality on the morning of Wednesday 11 March in Buswells Hotel, Dublin 2.
Speakers and panel to date include the following:
Aodhán Ó Ríordáin (Labour Party)
Brid O'Brien (Irish National Organisation of the Unemployed)
Juliette McMahon (UL)
Robert Sweeney (TASC)
10.30am - Registration (tea/coffee served)
11.00am - Opening Speaker and Remarks
11.20am -13.00pm Session followed by Q&A
For any inquires, please contact TASC Administrator at contact@tasc.ie
Events Calendar
Jump to a Month
Support us
Donate to TASC
There are many ways to support our work.
View our Publications
View full listings of all our recent publications.