TASC Annual Lecture 2019 - Rethinking Politics: Power and Resistance From Below
5th December 2019 - 06:30 PM to 08:30 PM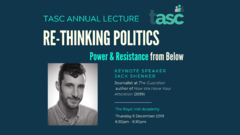 2019 TASC Annual Lecture 
Jack Shenker, award-winning journalist, will talk about the importance of grassroots politics in an era of institutional stasis across liberal democracies. In Ireland this type of politics emerged during the water charge protests and also influenced the success of the Citizens Assembly.
Focusing specifically on the UK, Shenker will ask how and why the tectonic plates beneath the surface of formal politics are shifting so dramatically.
Drawing on exceptional access to some of the UK's most exciting and dynamic new political movements, Shenker will discuss how the collapse of a paradigm that has structured our world for forty years is fuelling political engagement of a completely different sort: local, personal, effective and utterly fearless.
We do hope that you can join us for this exciting evening of discussion.
Location: The Royal Irish Academy, 19 Dawson Street, Dublin 2.
Date: Thursday 5 December 2019
Timings: 6.30pm - 8.30pm  (Registration from 6pm)
Keynote Speaker: Jack Shenker, Award-Winning Journalist
Respondent: Dr Aideen Hayden, Chair of Threshold, The National Housing Charity
Respondent: Deputy Eamon Ryan, Leader of the Green Party
Venue
Royal Irish Academy 19 Dawson Street
Location Map
Events Calendar
Jump to a Month
Support us
Donate to TASC
There are many ways to support our work.
View our Publications
View full listings of all our recent publications.