Thinking Outside the Ballot Box: Democracy and the EU
8th February 2019 - 09:00 AM to 05:00 PM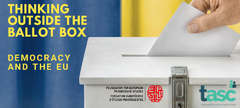 European Democracy is at a critical juncture. Diminishing faith in government, rising populism, increasing constraints on civil society and democratic participation, and flouting of the rule-of-law are just some of the worrying trends we are seeing across the continent. In response to this challenging environment, the Foundation for European Progressive Studies (FEPS) and the Think Tank for Action on Social Change (TASC) are hosing the conference, 'Thinking Outside the Ballot Box' on Feburary 8. This event will bring leading democracy advocates from across Europe to address these growing challenges. We invite you to register below. 
Keynote speaker, Tom Arnold, will set the stage for the day's event, which will include two interactive discussions on democracy building and a panel on increasing trust in EU institutions (more details below).
More than 30 experts and practitioners from throughout Europe will join in these discussions, including: 
Berta Barbet Porta and Anthony Barnett of Open Democracy
Ken Godfrey of the European Partnership for Democracy
Arunas Geluans, Lithuanian MP    
Kader Sevnic of Democracy 4.0
Tadej Beočanin Mayor of Ajdovščina, Slovenia  
Malisa Zobel of Humboldt-Viadrina        
Jane Suiter of the Ireland Citizen's Assembly
 Fishbowl I: Local Democracy
Participatory Budgeting
Local Economic Democracy
Deliberative Democracy
Government Accountability Mechanisms
 Fishbowl II: Restoring Confidence in Representative Democracy
Get out the vote campaigns
Open Government
Referendums
Dissemination of policy knowledge
Panel Discussion: Building Democratic Structures in the EU
Linking representative and participatory democracy
Building trust in institutions
Utilising digital democracy
Increasing public engagement with the EU
Increasing the impact of EU funding on democracy
Please Note: The conference fee includes all coffee/tea breaks and a full conference lunch at the Hilton Dublin.
Click HERE to register
Venue
Dublin Hilton Charlemont Place
Location Map
Events Calendar
Jump to a Month
Support us
Donate to TASC
There are many ways to support our work.
View our Publications
View full listings of all our recent publications.