Democracy in the Workplace: How can corporations gain trust?
This event happened on 31st October 2018
Ireland and the EU have entered into a period of uncertainty due to Brexit, the weakness of established political parties, the threats to democratic institutions and the rule of law, and the backlash against migration, amongst other issues.
In Ireland, the rise of social inequalities, the housing crisis, the need for healthcare reform, as well as the future relationship with the UK are among the most critical policy challenges.
In devising policy, is there a need to think more innovatively, where there is greater alignment between sustaining democracy and the economy? Does there need to be more support for social enterprise, worker ownership, and other models of addressing both inequality and disempowerment?
The purpose of this seminar is to raise questions about alternatives and how can they be implemented. We would be delighted if you could join us. We will be hosting a range of speakers below including academics, co-operative representatives, politicians and worker directors.
Chair:
Dr Lorraine Ryan – Dept. of Work and Employment Studies, University of Limerick
Speakers:
Tom Lloyd Goodwin: Associate Director at CLES (Centre for Local Economic Strategies)
Paul Gavan: Sinn Fein Senator – Spokesperson on workers' rights & collective bargaining
Sam Toland: Dublin Food-Coop Secretary
Martina O'Connell: Worker Director, An Post
Paul O'Sullivan: CEO Clann Credo – Community Loan Finance
Dr Shana Cohen: Director TASC (Think thank for action on Social Change)
Registration from 3.30pm with coffee and tea available.
Please RSVP Here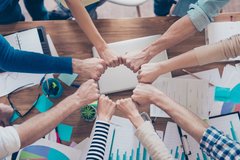 Venue
The Teacher's Club
Location Map