FEPS TASC Annual Conference - Redistribution in an Austere World: The Joy of Tax and the Mystery of Productivity
This event happened on 22nd June 2018
Presentations from Redistribution in an Austere World
The world is changing and times are uncertain. Europe is feeling the pinch from multinational tax avoidance and Ireland is benefitting. But with the UK about to say goodbye and America still not great again, how long will it last? Rising house prices and persistent inequality mean the need for public and social spending is as great as ever. Does Ireland have its own economic exit strategy if it all goes belly-up?
These are some of the themes to be discussed at the FEPS-TASC annual conference 2018: multinational tax, Ireland and Europe's productivity performance, housing, Brexit, and inequality.
A diverse range of speakers will join our discussion, including Minister for Finance, Paschal Donohoe TD; Patricia King of ICTU; Director of Prime economics and advisor to Jeremy Corbyn, Ann Pettifor; Peter Clinch; Seán Ó Riain; Annamaria Simonazzi; Gary Dymksi; Esme Berkhout; Jim Stewart; Dan O'Brien; Leopoldo Nascia and more.
Please Note: The conference booking fee includes a full lunch.
Register now at our Conference Website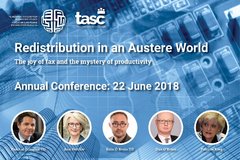 Venue
Croke Park Conference Centre
Location Map