The Housing Crisis and Precarious Workers Seminar
This event happened on 8th March 2018
The housing crisis in Ireland has affected families and individuals with very different backgrounds. However, the difficulties that people in precarious work (working on a temporary/fixed term, part-time with no guaranteed hours or on a self-employed basis) encounter are even more pronounced, as they lack economic stability. This seminar will discuss these challenges, including the negative psychological effects of not being able to afford to leave home, hidden homelessness( e.g. sleeping on friend's couches, a phenomenon that homelessness statistics do not cover), and evictions.
Speakers to include:
Dr Alicja Bobek (FEPS TASC Researcher) and Dr Michael Byrne (UCD School of Social Policy, Social Work and Social Justice)
Event will take place on Thursday 8 March from 4.00-5:45pm in The Teachers' Club, 36 Parnell Square West, Dublin 1 (registration and tea/coffee available from 3.30pm).
Registration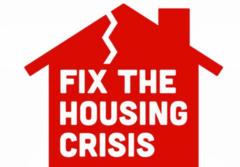 Venue
The Teachers' Club, 36 Parnell Square West, Dublin 1