Solid Foundations? Economic Inequality and the Housing Crisis - TASC-FEPS 8th Annual Conference
This event happened on 16th June 2017
Visit the dedicated annual conference website .
Inequality and what to do about it is now back on the political agenda.  For several years the annual conference of TASC-FEPS ( Foundation for European Progressive Studies ) has brought together progressive thinkers, activists and policy makers to discuss key social issues. Previous speakers have included Thomas Piketty and the late Sir Anthony Atkinson. The 2016 conference was also addressed by the President of Ireland, Michael D. Higgins. 
The 2017 conference has as its theme the relationship between economic inequality and the housing crisis. This is also the focus of this year's economic inequality report, Cherishing All Equally, which will be launched at the conference.
​Solid Foundations? is the must-attend conference in 2017 for anyone concerned with economic inequality.
Visit the dedicated annual conference website to register and to discover more.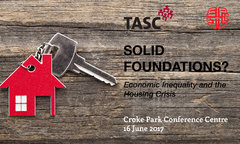 Venue
Croke Park Conference Centre
Location Map