TASC Nordic Models panel at OGP European Regional Meeting
This event happened on 8th May 2014 - 9th May 2014
As part of the European Regional Meeting of the international Open Government Partnership, TASC will co-host a panel discussion on the Nordic experience of 'Governing and Citizenship in Open Democracies' on Thursday afternoon, also in co-operation with the International Ombudsman Institute.
Update: The Nordic panel session will be live streamed via the web from 2pm to 4pm (Irish Time, GMT+1).
1. Go to website: http://www.castletv.ie/ (also available via a link on www.dublincastle.ie)
2. Select 'Event Room 1'
3. Enter the following details:
User: 18915a
Password: 080514
Speakers:
Nat O'Connor, Director of TASC (Chair)
Roald Næss, Ambassador of Norway
Arne Fliflet, Parliamentary Ombudsman for Public Administration
Peter Tyndall, Ombudsman and Information Commissioner, Ireland
Elisabet Fura, Ombudsman of Sweden and member of International Ombudsman Institute Board of Directors
Luis Esquivel, Access to Information Program, World Bank Institute
Sari Raassina, Finnish State Secretary, Ministry of Finance
Catherine Lippert, Special Advisor on Open Government and Open Data Innovation Strategy, Agency for Digitisation, Danish Ministry of Finance
Update: the full Agenda is here. All of the plenary sessions on both days will also be live streamed (same details as above).
Update: registration to attend the event is now closed
From OGP: "The event comes at an important time for OGP in Europe. Over 20 countries from the region are currently developing new open government reform commitments as part of their OGP Action Plans. The Dublin meeting provides an exciting opportunity for Ministers, officials and civil society to exchange ideas on how to make the new OGP Action Plans ambitious, relevant and action orientated.
"This event is open to official delegates from European countries currently participating or considering future participation in the OGP, representatives of civil society and non-governmental organisations, representatives of international, regional and multilateral organisations, the business community, and the academic community. This event is also open to media.

"The conference, hosted by the Department of Public Expenditure and Reform, will be a 2-day event consisting of plenary and working group/break-out sessions, with a balance of civil society representatives and government officials from across Europe."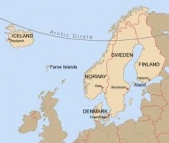 Venue
Dublin Castle
Location Map