Ensuring Good Future Jobs: Essay Collection Launch
28th November 2019 - 11:00 AM to 01:00 PM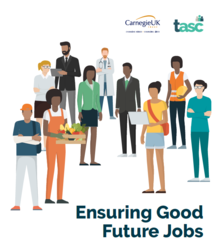 This Ensuring Good Future Jobs collection represents a coordinated response to the Future Jobs Strategy Report that was published by the Irish government in March 2019. The collection contributes to the renewed discussion of the future of work to understand the drivers behind the difference between what might constitute 'good work' and the everyday reality.
The collection features contributions from 15 key social partners in Ireland, including business representatives, academics, the trade union movement and wider civil society. Their essays describe the challenges faced by workers in different sectors and from different backgrounds in Ireland today, consider what good quality future jobs might look like for these workers, and outline what policies and practical changes may be needed to achieve this.
Panel:
- Shana Cohen (Director, TASC)
- Douglas White (Head of Advocacy, Carnegie UK Trust)
- Ethel Buckley (Deputy General Secretary - Organising and Membership Development, SIPTU)
- Laurence Bond (Director, IHREC)
(additional speakers TBA)
Event Details:
National University of Ireland Offices
49 Merrion Square E, Dublin 2
Thursday, 28th November
11.00am – 1pm
Registration begins at 11am
Event will begin at 11.30am
Tea, coffee will be available on arrival.
Events Calendar
Jump to a Month
Support us
Donate to TASC
There are many ways to support our work.
View our Publications
View full listings of all our recent publications.