Reducing Health Inequalities: The Role of Civil Society
6th November 2019 - 11:00 AM to 01:00 PM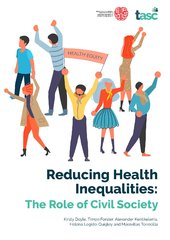 In this FEPS-TASC report, the authors take, for the first time, a more in-depth look at the impact and consequences of health inequality. Using three case study conditions – autism spectrum disorder, lung cancer and brain tumours – they analyse inequalities in access to diagnosis across three European countries (Ireland, Germany and Spain).
In addition, the report explores the unique role of civil society organisations in addressing health inequalities by providing services and supports which are not adequately supplied by the State.
Panel:
Louise O'Reilly TD, Sinn Féin Spokesperson for Health
Deirdre Garvey, CEO of The Wheel
Dr Julien Mercille, UCD
Event Details:
Georgian Suite, Buswells Hotel, Dublin 2
Wednesday, 6th November
11.00am – 12.30pm
Events Calendar
Jump to a Month
Support us
Donate to TASC
There are many ways to support our work.
View our Publications
View full listings of all our recent publications.