Inequality in Ireland and Europe - Cherishing all Equally 2019
19th February 2019 - 03:00 PM to 05:30 PM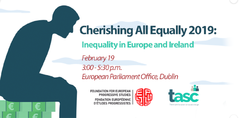 Despite the Dáil and the International Labour Organisation (ILO) both turning 100 years old this year, inequality in Ireland and Europe is as pressing an issue today as it has ever been. Rising social tensions and declining public services suggest that the gap between the 'haves' and the 'have-nots' is growing ever wider. Join us for the launch of the FEPS-TASC flagship report, "Cherishing All Equally", to find out why this is the case and how we can fix it. 
Date: 19 Feburary 2019
Time: 3:00-5:30 p.m.
Location: European Parliament Liaison Office, 12 Mount St. Lower, Dublin 2
Opening speakers: 
Damian Grimshaw, Director Research ILO
Pearse Doherty, Finance Spokesperson, Sinn Fein
Panel:
Hanna Szymborska, Lecturer in Economics, Open University
Robert Sweeney, FEPS-TASC Researcher on Inequality
Robert Watt, Secretary General of the Department of Public Expenditure and Reform
Chair:
Marie Sherlock, Economist, SIPTU
Venue
12 Mount St. Lower, Dublin 2
Location Map
Events Calendar
Jump to a Month
Support us
Donate to TASC
There are many ways to support our work.
View our Publications
View full listings of all our recent publications.