Reducing Health Inequalities in Ireland: The Role of Policy
2nd November 2018 - 08:30 AM to 01:00 PM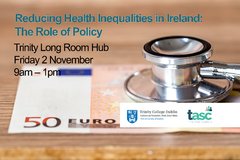 On Friday the 2nd of November 2018, Trinity College Dublin, along with FEPS (Foundation of European Progressive Studies) and TASC (Think-tank for Action on Social Change) will hold a conference on the subject of 'Reducing Health Inequalities in Ireland: the role of policy'.
The conference will feature keynote speakers from Sweden, Germany, the UK and Ireland who will talk about the kinds of policies which can reduce health inequalities, particularly in the area of healthcare.
The conference will also host a debate between a panel of policy makers on the topic of Sláintecare, the all-party report on the future of healthcare in Ireland.
The focus of this important discussion will be 'Can Sláintecare improve access to healthcare in Ireland?'
Confirmed participants to date:
Róisín Shortall T.D, Chair of the Oireachtas Committee on the Future of Healthcare
Prof. Olle Lundberg, Professor of Health Equity Studies, Stockholm University
Prof. Richard Layte, Professor of Sociology, Trinity College Dublin
Prof. David Taylor-Robinson, Professor of Public Health and Policy, University of Liverpool
Dr Shana Cohen, Director TASC (Think-tank for Action on Social Change)
Prof. Claus Wendt, Professor of Sociology of Health and Healthcare Systems, Siegen University
Sarah Carey, Irish columnist and broadcaster
Please Note: Registration will open at 8.30am and the conference will begin at 9am.
Venue
Long Room Hub
Location Map
Events Calendar
Jump to a Month
Support us
Donate to TASC
There are many ways to support our work.
View our Publications
View full listings of all our recent publications.