Book Launch: 'Upsetting the Applecart: Tax-based Industrial Strategy in Ireland and Europe'
18th October 2018 - 11:00 AM to 01:00 PM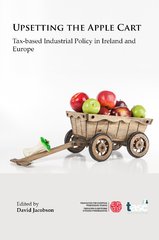 Upsetting the Applecart: Tax-based industrial strategy in Ireland and Europe can be purchased via the following links:
Upsetting the Applecart: Tax-Based Industrial Policy for Ireland and Europe examines the role of multinational enterprises in increasing inequality. Its expert authors offer a radical new analysis of the issues including the ineffective taxation of multi-national enterprises, tax avoidance through widespread use of tax havens in Ireland and elsewhere, and the need for an alternative and effective industrial policy.
The book launch will include contributions from expert speakers followed by a panel discussion with the book's authors.
Key Speakers:
Panel Discussion with Book Authors:
David Jacobson, Professor Emeritus of DCU Business School
Esmé Berkhout, Policy Advisor on Tax Justice and Inequality, Oxfam  
James Stewart, Professor of Finance, TCD Business School
Eoin O'Malley, Economist and Member of TASC's Industrial Policy Commission
Moderator: Sean O'Riain, Professor of Sociology, Maynooth University
Venue
Buswells Hotel, 23-27 Molesworth Street, Dublin 2
Location Map
Events Calendar
Jump to a Month
Support us
Donate to TASC
There are many ways to support our work.
View our Publications
View full listings of all our recent publications.