Lunchtime Seminar: Dr Brendan K O'Rourke: 'The Economy and Public Discourse'
30th March 2017 - 12:45 PM to 02:15 PM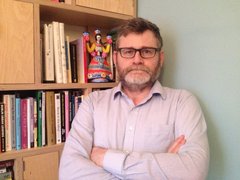 On Thursday 30th March, Dr Brendan K. O'Rourke, DIT, delivered a talk entitled: 'The Economy and Public Discourse'.
How do we talk about the economy? To whom do we listen about the economy? In these times of austerity, Brexit and right-wing populism, these questions are crucial for those who value democracy and equality. Can we avail ourselves of expertise on the economy and at the same time avoid accepting elitist ideologies? How can we understand the role of the media in this process? This seminar overviewed some of the discourse analytical research being done in this area.
 Brendan's presentation is available here.
Date for your diary, the next seminar in the series this year:
Thursday 27th April: Dr Jean Cushen, (Maynooth University), 'Organising and resisting work in the financialised workplace'.
Venue
TASC Office, Castleriver House, 14-15 Parliament St, Dublin 2
Events Calendar
Jump to a Month
Support us
Donate to TASC
There are many ways to support our work.
View our Publications
View full listings of all our recent publications.